Last summer I got into roller skating but find my skates to be a bit plain and wanted to dress them up a bit. So I made some patches using the Makerspace embroidery software and machine. I designed some images in Embrilliance, which is on all of the computers in the Makerspace. Two of the patches were images I found online and manually converted into patches, while one I drew from scratch on the software.
I was a little intimidated about using the software at first but it has become my favourite thing now. I learned to use it by watching and following along with Youtube videos, and using Google a lot and just playing around with the various tools in the program. I really like that Embrilliance does not auto convert images into embroidery files because that would mean there is no learning involved. Plus, when the patch works out it is way more satisfying to know that I had to create the embroidery file manually.
To make the patches, I found an image online of something I liked, and uploaded it to Embrilliance. I then traced around the image and filled it with stitching and colour and patterns. Once the file was complete, it needed to be saved onto a USB in .pes format and plugged into an embroidery machine. I put my fabric into the embroidery hoop, threaded the machine, and hit start. It auto stitches everything and all I had to do after that was change thread colours when the machine told me to. Once my patches were done, I cut them out and glued them onto my skates using fabric glue. I love how they turned out and that I got to choose images of things I liked or from my favourite shows.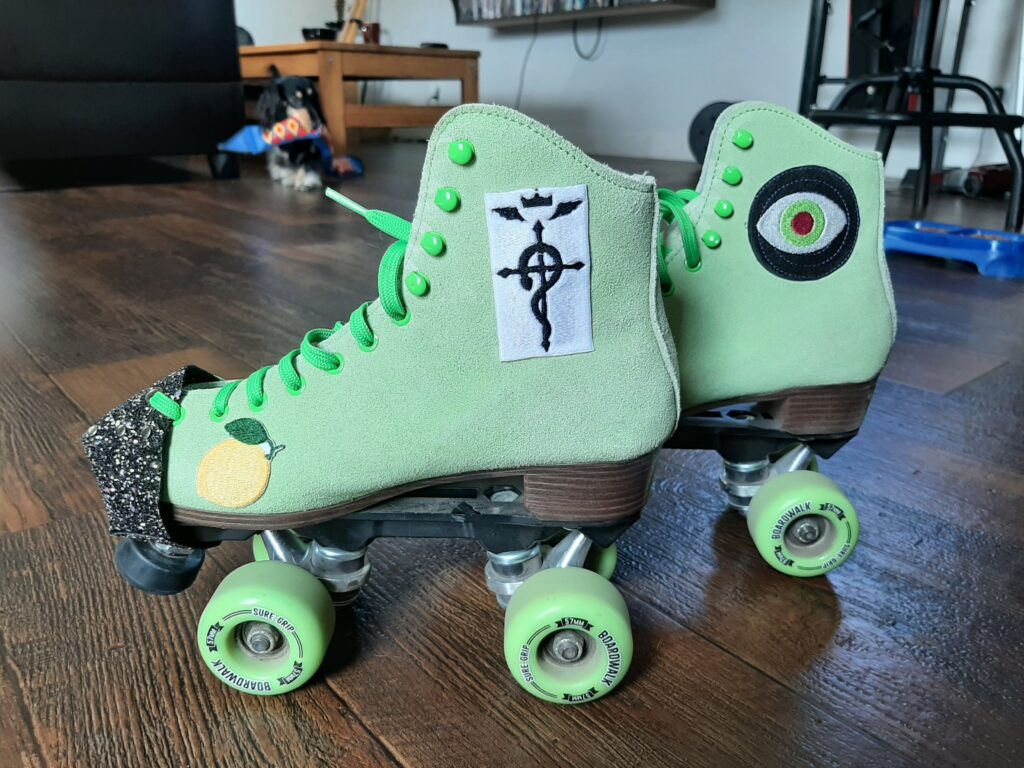 References
The most helpful video I watched was on the embroidery page on the Makerspace website under video tutorials about digitizing designs.