Guest Post: Making My World – A Reflection by Kirsten Glass
Note: Kirsten Glass joined the Makerspace team as a student research assistants in the fall of 2021 and has been instrumental in helping get Makerspace off the ground. Kirsten's contributions included designing our website, writing content and blog posts, creating instructional materials, and helping users in the space. The following post is a reflection Kirsten wrote as she finished her role in as a research assistant at the end of March, 2023. Kirsten's attention to detail and creativity will be missed and we look forward to hearing about her future successes. - Franklin Sayre, Makerspace Librarian, May 4, 2023
The first time I delved into the world of making is a blur in my memory. It's challenging to separate the stories from the recollections since making and simply existing were intricately intertwined in my family. For us it made sense, fixing something was almost always cheaper than buying it, and figuring it out yourself was always cheaper than having someone else do it. I believe I was around 7 years old when I sat down at the kitchen table, armed with scrap cloth and my grandmother's trusty sewing machine. While she was busy preparing meals, I played and experimented with the sewing machine. Those moments made me realize how difficult it is to notice the profound impact that people and things have on us in the present moment. Since that time, my love for various forms of making has blossomed. From sewing to refinishing furniture and even cooking, the list of creative pursuits could go on and on.
This love of making eventually led me to the job I've had here at Makerspace. Looking back, I know without a doubt access is vital for developing maker skills and having a well-rounded education. It involves the privilege of gaining knowledge, learning from experienced individuals, and having the necessary resources for creating. Being able to learn directly from mentors and other makers provides valuable guidance and insights. I've been able to see how access to tools, materials, and technologies empowers makers to bring ideas to life. Makerspaces, such as the one found here at TRU, play a crucial role in creating a unique space where all these privileges come together.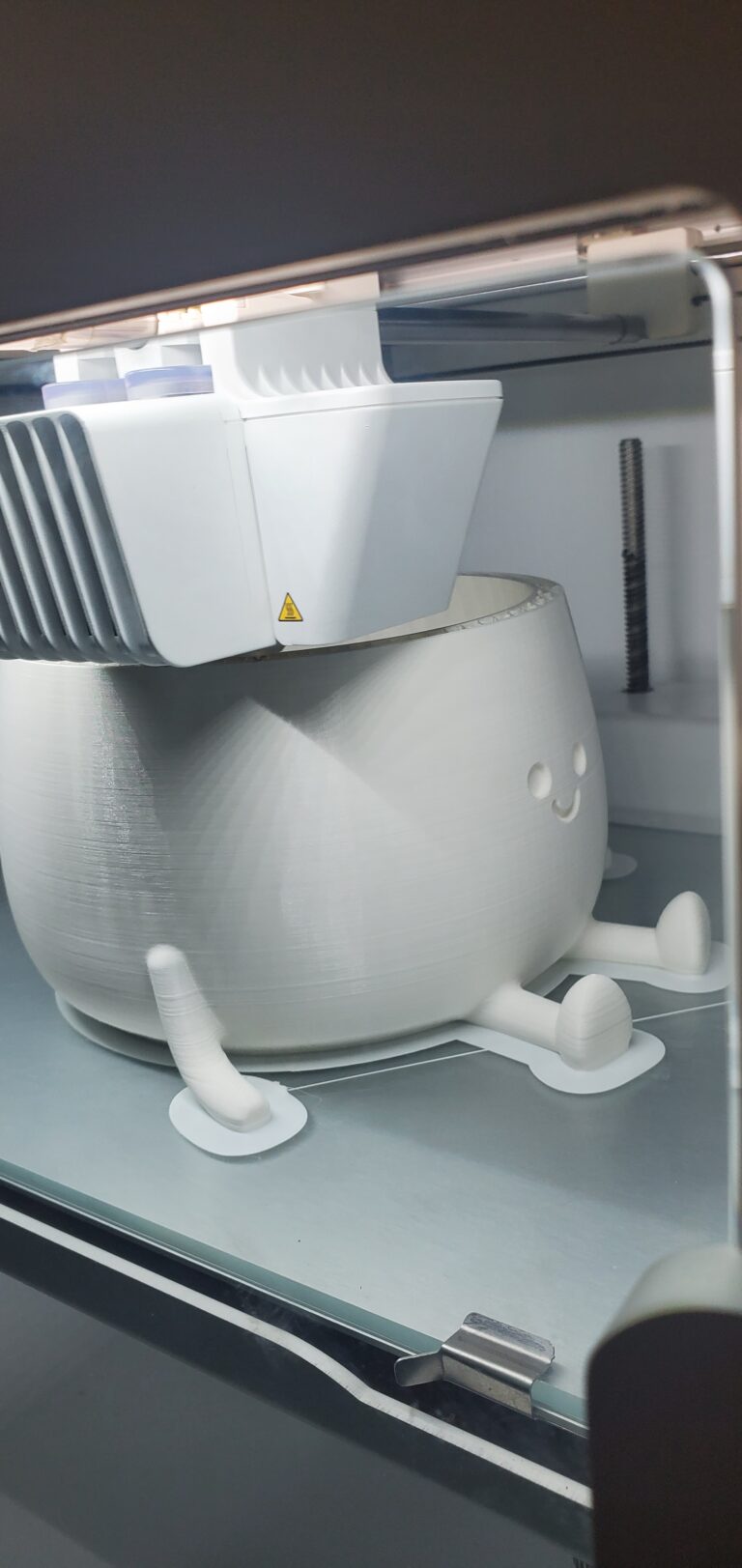 I've heard from students and staff alike how this reshapes the sometimes lonely and mundane experiences in postsecondary by fostering creativity, creating unique educational experiences, and enhancing connectivity. Makerspaces are where individuals can come together, explore their interests, and collaborate on innovative projects, or instructors can shape new cutting-edge pedagogy. A place that offers access to tools, technologies, and a supportive community that otherwise might be inaccessible. It is a space where traditional boundaries between academic fields dissolve, allowing for the convergence of art, science, engineering, and more.
Throughout my time at TRU Library Makerspace, I have been fortunate to witness a myriad of unique projects that have captivated my imagination. From artists creating intricate 3D figures to engineering students skillfully learning embroidery for club sweaters to education students using various technologies to enhance their teaching experiences – each day brings a wave of remarkable creations that students, faculty, and staff bring to life within Makerspace.
Parallel to my work at Makerspace, my role as a teaching assistant in the Department of Communication and Visual Arts has unexpectedly led me down a new path—one that has ignited a profound passion for becoming an educator. These two interconnected facets of my life have instilled in me an unwavering conviction that creativity and making are essential, transcending disciplinary boundaries. From the bus, you sit in to get to campus to the buildings we learn in daily. Our world is full of things that only exist when you bring the creative, and the technical together.
Now, as I'm moving on from my time working at TRU Library Makerspace, I'm excited to focus again on the aspects of making in my own life. I will continue to explore different forms of making, from pursuing new craft projects to exploring innovative pedagogy of my own. Makerspace has become another example in my life of the importance in fostering a sense of community and providing access to resources. As I move forward, I carry with me the profound realization of how making has shaped my journey and the world around me. It has become clear to me that the act of making extends far beyond the physical objects we create. It is a mindset, a way of thinking and approaching challenges with curiosity and resilience. One that we are very privileged to have resources for here at TRU.